Artis—Naples' theme for the 2017-18 season
---
Beethoven, Reicha and Weber
— The Winds of Change
2017-18 Sypert Salon #1
Sunday and Tuesday at 3pm
October 10 and 15, 2017
Naples Philharmonic Chamber Musicians
Beethoven — Sextet for Two Horns and String Quartet in E-flat Major
Reicha — Bassoon Quintet in B-flat Major
Weber — Clarinet Quintet
Three different 18th and 19th century pieces for wind instruments highlight the depth and versatility of horn, bassoon and clarinet and how music changes based on instrumentation.
---
Highlights from the Permanent Collection
Artis—Encounters features a selection of works from The Baker Museum's permanent collection by American, European and Mexican artists. Selected for their aesthetic, stylistic and thematic attributes, this group of paintings and sculptures acquires new meaning in the context of Hayes Hall and in the company of installations like Louise Nevelson's Dawn's Forest as well as sculptures displayed around campus. A painting by Robert Motherwell is put in dialogue with Yaacov Agam's Gateway to the Arts, while the fragmented form in Rufino Tamayo's Desnudo en blanco (White Nude) contrasts with the smooth surface of Hanneke Beaumont's Bronze 73 (L'Ennui), among other significant new acquisitions on view for the first time. Artis—Encounters invites visitors to discover connections between the visual and performing arts, foster dialogue about ideas and enjoy unexpected encounters with beautiful works of art. This exhibition is organized by Artis—Naples, The Baker Museum. November 2, 2017 – June 2, 2018
---
Art and Language
2017-18 Lifelong Learning
Thursday, January 11, 2018, 10am — The Languages of Art
Thursday, February 1, 2018, 10am — Forging Art
Thursday, March1, 2018, 10am — Reading Artistic and Natural Landscapes
Marcia Eaton, Ph.D., Professor Emeritus, University of Minnesota
Marcia Eaton examines the many languages of art and how they shape and inform our appreciation across disciplines.
---
© Marica Rosengard
Mozart and Mattila
2017-18 Masterworks #5
Friday and Saturday
January 26 and 27, 2018
Hannu Lintu, conductor
Karita Mattila, soprano
Schoenberg — Chamber Symphony No. 2
Beethoven — Ah, perfido!
Lehár — "Meine Lippen sie küssen so heiss" from Giuditta
Lehár — "Vilja Lied" from The Merry Widow
Mozart — Symphony No. 36
With legendary soprano Karita Mattila, the Naples Philharmonic explores how music and the listening experience change with the addition of vocals.
---
Reel Stories:
Academy Award-winning Foreign Language Films
2017-18 Lifelong Learning
Thursday, February 1, 2018, 10am — Rashomon
Thursday, March 1, 2018, 10am — Z
Thursday, March 22, 2018, 10am — Cinema Paradiso
Thursday, April 19, 2018, 10am — Babette's Feast
Elaine Newton, Ph.D., Professor Emeritus of Humanities at York University, Toronto
Cinema's language of image and sound often transcends the spoken word's limitations. These foreign language films are among the finest ever made.
---
Joe Leonardo — American Composers:
Lyricists and Librettists for Broadway and Hollywood
2017-18 Lifelong Learning
Monday, February 5, 10am — Dorothy Fields
Wednesday, February 7, 2018, 10am — Betty Comden and Adolph Green
Joe Leonardo, Ph.D., Laura Carnell Professor Emeritus of Theater at Temple University
Few artists mix melody and words better than those who compose for stage and screen. Joe Leonardo profiles three such song writers whose stories and songs we still celebrate today.
---
© Marco Borggreve
Stravinsky's The Soldier's Tale
2017-18 Wang Chamber Music #2
Sunday at 3pm
February 18, 2018
Naples Philharmonic Chamber Musicians
Andrey Boreyko, conductor
Vadim Gluzman, violin
Stravinsky — The Soldier's Tale
A narrator and actors add depth to Stravinsky's glorious music in this complex musical story. Andrey Boreyko conducts Naples Philharmonic musicians and guest artist Vadim Gluzman in this special chamber performance.
---
Frank Lloyd Wright:
The Language of Organic Architecture
2017-18 Lifelong Learning
Tuesday, March 13, 2018, 10am (Part One)
Thursday, March 15, 2018, 10am (Part Two)
John Lobell, M. Arch., professor at Pratt Institute
Frank Lloyd Wright pioneered a language of organic architecture, combining Western and Eastern aesthetics into one unmistakable style.
---
Nielsen's Inextinguishable Symphony
2017-18 Masterworks #8
Thursday and Friday
March 29 and 30, 2018
Arvo Volmer, conductor
James Ehnes, violin
Grieg — Selections from Ibsen's Peer Gynt
Barber — Violin Concerto
Nielsen — Symphony No. 4, "The Inextinguishable"
This Masterworks performance removes language from the equation as incidental music from Ibsen's Peer Gynt is performed outside of the play's context.
---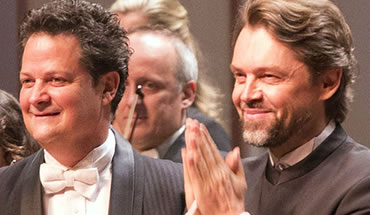 Tchaikovsky's Pathétique
2017-18 Masterworks #9
Thursday and Saturday
April 12 and 14, 2018
Andrey Boreyko, conductor
Benjamin Grosvenor, piano
Pärt — Cecilia, vergine romana
Chopin — Piano Concerto No. 2
Tchaikovsky — Symphony No. 6, "Pathétique"
Pärt's Cecilia, vergine romana, a work for orchestra and chorus, brings vocals to contemporary classical music giving audiences a look at the current use of singing in composed music.
---
Languages of Art
Regardless of genre, artists create their own vocabulary for describing the world around them. Think about the cello as the lead character in Strauss' Don Quixote or the swirling, manic brush strokes in van Gogh's The Starry Night. Using their artistic tools, artists transfer their stories onto scores and canvases, leaving it up to the audience to parse out the full meaning.
Because artists are individuals and often idiosyncratic, they frequently approach the same subject from very different directions. A seascape by Monet will look dramatically different than one by J.M.W. Turner, even if they painted the same spot. Rimsky-Korsakov and Ravel both read The Thousand and One Nights and then created wildly different musical interpretations.
This season, we will see how various artists approach ideas, such as the nude female form or the string quartet. By comparing these side by side, a greater appreciation for both the art forms and artistic license will develop.
Artists have also often co-opted written or spoken word into their works. This is the more literal interpretation of Languages of Art and another avenue for exploration this season.
Words in songs date back to the invention of language and have a strong place in the classical music repertoire. From full operas to intimate song cycles, music with words often becomes more than the sum of its parts. This season will feature works with spoken or sung words or that were inspired by words. Performances include the January Masterworks with legendary soprano Karita Mattila.
Visual art, too, has a long history with written language. In many ways, art was the first written language, dating to prehistoric cave paintings and hieroglyphics. In the middle ages, some of the most beautiful art was created to illuminate manuscripts. In the 20th century, Pop artists, such as Andy Warhol and Robert Indiana, often made text a focal point of their works. The Baker Museum will explore text in modern and contemporary art this season.
---
All programming, lectures and dates are subject to change