American Drawings from the Brooklyn Museum
---
J. Carroll Beckwith (American, 1852–1917). Portrait of Minnie Clark, circa 1890s. Charcoal and pastel on blue fibered laid paper, 22 3/8 x 18 1/4 in. (56.8 x 46.4 cm). Brooklyn Museum, Gift of J. Carroll Beckwith, 17.127.
Winslow Homer (American, 1836–1910). The Unruly Calf, circa 1875–76. Graphite and white opaque watercolor on blue-gray wove paper, 4 11/16 x 8 1/2 in. (11.9 x 21.6 cm). Brooklyn Museum, Museum Collection Fund, 24.241.
Daniel Huntington (American, 1816–1906). Nude Study, circa 1848. Black and white chalk and black crayon on green wove paper, 21 3/4 x 15 1/8 in. (55.2 x 38.4 cm). Brooklyn Museum, Gift of The Roebling Society, 68.167.5.
Thomas Eakins (American, 1844–1916). "Thar's Such A Thing As Calls in This World," illustration for Richard M. Johnston, "Mr. Neelus Peeler's Conditions," Scribner's Monthly (June 1879), 1879. Black ink with opaque white highlights on wove paper, 10 7/16 x 12 1/4 in. (26.5 x 31.1 cm). Brooklyn Museum Collection, 30.1452.
Louis Bouché (George Louis Robert Bouché) (American, 1896–1969). The Three Sisters, 1918. Graphite on cream laid paper, 24 3/16 x 18 7/8 in. (61.4 x 47.9 cm). Brooklyn Museum, Gift of Miss Ettie Stettheimer, 45.121.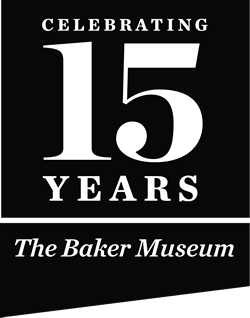 A previous exhibition
at The Baker Museum
October 24, 2014 — January 18, 2015
---
Fine Lines: American Drawings from the Brooklyn Museum presents over 100 of the finest drawings and sketchbooks from the Brooklyn Museum's world-renowned collection of American art. These featured objects from 1769-1945 trace the history of American graphic art through a variety of styles and practices. Each drawing, whether in graphite, ink, or pastel, provides immediate insight into the artist's methods and vision.
Organized into thematic sections — the nude body, the clothed figure, portraiture, narrative subjects and landscape — Fine Lines examines drawing as an initial step in the creative process and a vital medium in its own right.
Fine Lines presents work from over seventy artists, including Benjamin West, John Singleton Copley, William Trost Richards, Eastman Johnson, Winslow Homer, John Singer Sargent, William Glackens, Edward Hopper, Stuart Davis and Marsden Hartley.
This exhibition is accompanied by a fully illustrated scholarly catalogue available in the museum store.
---
Organized by the Brooklyn Museum. Generously underwritten by Patty & Jay Baker.
George Copeland Ault (American, 1891–1948). Shipboard, 1924. Graphite on cream wove paper, 9 x 6 in. (22.9 x 15.2 cm). Brooklyn Museum, Gift of Manhattan Art Investments, LP, 2007.46.
Richard Bruce Nugent (American, 1906–1987). Dancing Figures, circa 1935. Black ink and graphite on cream wove paper, 14 3/4 x 10 1/2 in. (37.5 x 26.7 cm). Brooklyn Museum, Gift of Dr. Thomas H. Wirth, gift of Frederick J. Adler, by exchange, bequest of Richard J. Kempe, by exchange, and gift of Abraham Walkowitz, by exchange, 2008.50.6. © Thomas H. Wirth.