Naples Philharmonic Classical Music Series
---
2023-24 Season Subscriptions

Subscription renewals are currently available. Orders for new subscribers will be available on May 30.
Subscription Renewal
Or call 239-597-1900
---
2022-23 Season Performances
Single tickets

available now
© Merlijn Doomernik
Lamsma Plays Bruch Violin Concerto
March 31 and April 1, 2023
Friday and Saturday at 8pm
Prelude at 7pm
Naples Philharmonic
Daniel Raiskin, conductor
Simone Lamsma, violin
Pēteris Vasks — Musica Serena
Bruch — Violin Concerto No. 1 in G Minor
Dvořák — Symphony No. 7
---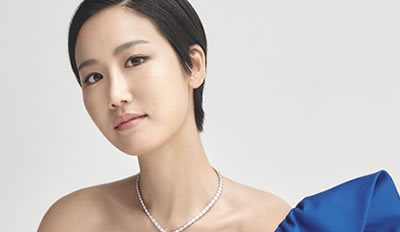 © Chun Youngsan
Mahler Symphony No. 4
April 13 and 15, 2023
Thursday and Saturday at 8pm
Prelude at 7pm
Naples Philharmonic
Christian Reif, conductor
Hera Hyesang Park, soprano
Naples Philharmonic Chorus
Anna Clyne — This Midnight Hour
Brahms — Schicksalslied
Mahler — Symphony No. 4
---
© Ben Ealovega
Romeo and Juliet
May 5 and 6, 2023
Friday and Saturday at 8pm
Prelude at 7pm
Naples Philharmonic
Andris Poga, conductor
Simon Trpčeski, piano
Tchaikovsky — Romeo and Juliet Overture-Fantasy
Shostakovich — Piano Concerto No. 2
Prokofiev — Selections from Romeo and Juliet
---
Music and Museum All Masterworks tickets include same-day admission to The Baker Museum. Museum hours on day of performance: 10am-8pm. In addition, the doors to Hayes Hall will open 90 minutes prior to this performance. Arrive early to enjoy the exhibitions and light fare available at Heidi's Place.
Masterworks Preludes Join the conductor before the performance for an insightful 30-minute prelude discussion about the program. Masterworks preludes begin at 7pm.
---
Why Subscribe?
First choice of seating
When you subscribe to a series of performances at Artis—Naples, you have first choice of seating at the guaranteed lowest price. Order a subscription series in advance of single-ticket sales and you secure your seats for each of your programs in the series. You will never miss a performance because it sells out.
Priority access to additional season performances
Subscribers may exchange any subscription performance for another program's performance during our subscriptions exchange week. You can exchange tickets with no exchange fees. Subscribers also have priority access to additional season add-on performances that are announced after the season begins.
Purchase additional seats at a discount
Have guests coming to town? Need an extra seat for one of the Naples Philharmonic's programs? Not a problem! Subscribers can purchase additional seats at a discount. But order early; prices increase based on demand.
Priority upgrades of your seats
As a subscriber, you have first choice of the most desirable seating in Hayes Hall and Daniels Pavilion. In addition, subscribers are among the first to receive priority upgrades on their seats. If you would like to be closer to the action or reserve a Gold Circle Box for a special night out, you can put your request in for the upgrade. If seats are available, you will be given priority over other single-ticket buyers.
---
All programming, performers and dates are subject to change.