The World's Greatest Orchestras
---
New Subscribers
Individual events are available,
scroll down for season performances
Why Subscribe?
You'll be seeing the world's finest music, dance and theater from the best seats in the house at up to 30 percent off the price of single tickets. In addition, subscribers have the opportunity to purchase high-demand concerts before they go on sale to the general public.
2019-20 Season Performances
---
© Courtesy The Cleveland Orchestra
The Cleveland Orchestra
2019-20 Visiting Orchestras #1
Sunday, January 26, 2020 at 2pm
Franz Welser-Möst, music director
Mahler — Symphony No. 5
Led by Franz Welser-Möst, the Cleveland Orchestra is acknowledged among the world's handful of best orchestras, with The New York Times declaring it the "best in America" in 2015.
---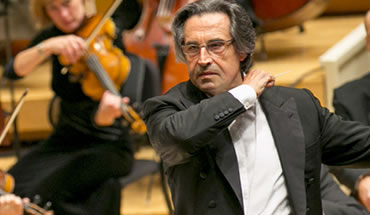 © Todd Rosenberg Photography
Chicago Symphony Orchestra
Riccardo Muti, Zell Music Director
2019-20 Visiting Orchestras #2 and #3
Thursday and Saturday
February 13 and 15, 2020 at 8pm
Riccardo Muti, Zell Music Director
Thursday Performance
Prokofiev — Selections from Romeo and Juliet
Prokofiev — Symphony No. 3, "The Fiery Angel"

Saturday Performance
Wagner — Overture to The Flying Dutchman
Hindemith — Mathis der Maler
Dvořák — Symphony No. 9, "From the New World"
The Chicago Symphony Orchestra is consistently hailed as one of the greatest orchestras in the world. Since 2010, the preeminent conductor Riccardo Muti has served as music director. Yo-Yo Ma is the CSO's Judson and Joyce Green Creative Consultant, and Samuel Adams and Elizabeth Ogonek are its Mead Composers-in-Residence. The 2019-20 season continues a three-year residency partnership with Artis—Naples. Each season of the residency will include two orchestra concerts with distinct programs along with master classes and education performances.
---
The Knights with Gil Shaham
2019-20 Visiting Orchestras #4
Monday, February 24, 2020 at 8pm
Eric Jacobsen, conductor
Gil Shaham, violin
Colin Jacobsen — New Commission
Beethoven — Violin Concerto
Janáček — String Quartet No. 1, "Kreutzer Sonata"
Brahms — Hungarian Dances
The Knights are a collective of adventurous musicians, dedicated to transforming the orchestral experience and eliminating barriers between audiences and music. Driven by an open-minded spirit of camaraderie and exploration, they inspire listeners with vibrant programs that encompass their roots in the classical tradition and passion for artistic discovery. Joining them in their Artis—Naples debut is the great violinist Gil Shaham, an engaging performer known for his athleticism, emotional delivery and musicianship.
---
The Visiting Orchestras series is generously sponsored by Judy and Verne Istock
---
Why Subscribe?
First choice of seating
When you subscribe to a series of performances at Artis—Naples, you have first choice of seating at the guaranteed lowest price. Order a subscription package in advance of single-ticket sales and you secure your seats for each of your programs in the series. You'll never miss a performance because it sells out.
Priority access to additional season performances
Subscribers may exchange any subscription performance for another program's performance during our subscriptions exchange week in September. You can exchange tickets with no exchange fees.* Subscribers also have priority access to additional season add-on performances that are announced after the season begins.
Purchase additional seats at a discount
Have guests coming to town? Need an extra seat for one of the Naples Philharmonic's programs? Not a problem! Subscribers can purchase additional seats at a discount. But order early to protect yourself against price increase due to demand.
Priority upgrades of your seats
As a subscriber, you have first choice of the most desirable seating in Hayes Hall and Daniels Pavilion. In addition, subscribers are among the first to receive priority upgrades on their seats. If you'd like to be closer to the action or reserve a Gold Circle Box for a special night out, you can put your request in for the upgrade. If seats are available, you'll be given priority over other single-ticket buyers.
---
All programming, performers and dates are subject to change.