2022-23 Season
---
Artis—Naples strives to make the performing arts accessible to everyone. As our community's cultural resource, Artis—Naples proudly offers teachers, students and parents discounted prices to a variety of live performances. We invite you to join our audience and experience the world's finest musicians. Simply complete the online request form to receive your promo code.
Request Promo Code
Please allow 2–4 days to process your request.
Instructions
after receiving your promo code
Register your promo code. Please click the "Enter Promo Code" button below, and then enter your school's Education Discount promo code, after which you will press "Continue" to log in or create an account. After logging in, you will be automatically redirected to Step 2 on this page. (Promo codes must be applied before selecting a performance).
Select your first performance. Click "Buy Tickets" for any performance on this page and put it in your shopping cart. (To receive your discount, make sure you've done Step 1 first). You may check out after putting a performance in your cart, or if you wish to add more performances, simply click "Continue Shopping" in the cart and then make your way back to this Education Discount page.
Add additional performances and/or check out. After returning to this page, repeat Step 2 for each performance you wish to add. When you are finished, press "Check Out" in the shopping cart or on this page to complete your purchase.

Please note: Regular priced tickets cannot be added to the same shopping cart as Education Discount tickets. An error message will appear. Tickets to other performances may be purchased in a separate order.
Purchasing deadline for Education Discount tickets is 4 hours prior to each individual performance time. Tickets are subject to availability.
1
Register your promo code
Promo codes must be applied before selecting a performance.
---
2
Select a performance
Add events to your cart. See Step 2 in the instructions above.
© Merlijn Doomernik
Lamsma Plays Bruch Violin Concerto
Naples Philharmonic Masterworks
March 31 and April 1, 2023
Friday and Saturday at 8pm
Prelude at 7pm
Naples Philharmonic
Daniel Raiskin, conductor
Simone Lamsma, violin
Pēteris Vasks — Musica Serena
Bruch — Violin Concerto No. 1 in G Minor
Dvořák — Symphony No. 7
---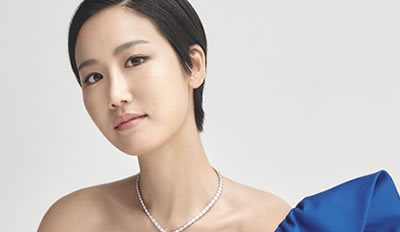 © Chun Youngsan
Mahler Symphony No. 4
Naples Philharmonic Masterworks
April 13 and 15, 2023
Thursday and Saturday at 8pm
Prelude at 7pm
Naples Philharmonic
Christian Reif, conductor
Hera Hyesang Park, soprano
Naples Philharmonic Chorus
Anna Clyne — This Midnight Hour
Brahms — Schicksalslied
Mahler — Symphony No. 4
---
© Ben Ealovega
Romeo and Juliet
Naples Philharmonic Masterworks
May 5 and 6, 2023
Friday and Saturday at 8pm
Prelude at 7pm
Naples Philharmonic
Andris Poga, conductor
Simon Trpčeski, piano
Tchaikovsky — Romeo and Juliet Overture-Fantasy
Shostakovich — Piano Concerto No. 2
Prokofiev — Selections from Romeo and Juliet
---
Summer Spectacular
Naples Philharmonic Special Performance
May 21, 2023
Sunday at 7pm
Naples Philharmonic
Naples Philharmonic Youth Orchestra
Radu Paponiu, conductor
Featuring the NPYO Concerto Competition Winners
Associate Conductor Radu Paponiu and the Naples Philharmonic are joined onstage in Hayes Hall by the Naples Philharmonic Youth Orchestra in a side-by-side program that features the winner of the annual Naples Philharmonic Youth Orchestra Concerto Competition. A program for music fans of all ages, these two magnificent ensembles will perform some of classical music's most beloved repertoire together in an event not to be missed.
---
Patriotic Pops
Naples Philharmonic Special Performance
May 25–26, 2023
Thursday and Friday at 8pm
Naples Philharmonic
Radu Paponiu, conductor
Naples Philharmonic Chorus
Jeremy T. Warner, director
Naples Philharmonic Youth Chorus
Barbara Sletto, director
Join Associate Conductor Radu Paponiu and the Naples Philharmonic as they perform some of your favorite American music. Show your patriotism and join us for our annual Patriotic Pops tradition — a rousing star-spangled salute to our troops and the grand music of America.
---
3
Complete your purchase
Review your order and complete payment.
---
All programming, performers and dates are subject to change.