The Art of Corita Kent
---
circus alphabet and circus, 1968. Serigraphs. 23 x 23 inches each. Photo by Arthur Evans. Courtesy of the Tang Museum at Skidmore College and Corita Art Center, Los Angeles.
the lord is with thee, 1952. Serigraph. 22 x 15 1/4 inches.
highly prized, 1967. Serigraph. 29 7/8 x 36 1/8 inches.
who came out of the water, 1966. Serigraph. 29 7/8 x 36 1/8 inches.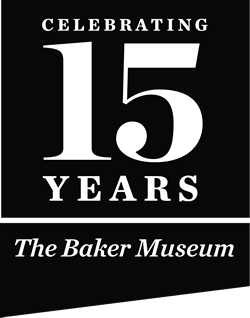 A previous exhibition
at The Baker Museum
September 27, 2014 — January 4, 2015
---
Corita Kent (1918-1986) was a pioneering, Los Angeles-based artist and designer. For over three decades, Corita, as she is commonly referred to, experimented in printmaking, producing a prodigious and groundbreaking body of work that combines faith, activism, and teaching with messages of acceptance and hope. Her vibrant, Pop-inspired prints from the 1960s pose philosophical questions about racism, war, poverty, and religion and remain iconic symbols of that period in American history. Bringing together artwork from across Corita's entire career, Someday Is Now reveals the impassioned energy of this artist, educator, and activist.
A Sister of the Immaculate Heart of Mary, Corita taught at the Art Department at Immaculate Heart College from 1947 through 1968. At IHC, Corita developed her own version of Pop art, mixing bright, bold imagery with provocative texts pulled from a range of secular and religious sources, including street signs, scripture, poetry, philosophy, advertising, and pop song lyrics. She used printmaking as a populist medium to communicate with the world, and her avant-garde designs appeared widely as billboards, book jackets, illustrations and posters. By the mid-1960s Corita and IHC's art department had become legendary, frequently attracting such guests as John Cage, Charles and Ray Eames, Buckminster Fuller, Saul Bass and Alfred Hitchcock. Dubbed the "joyous revolutionary" by artist Ben Shahn, Corita lectured extensively, appeared on television and radio talk shows across the country, and on the cover of Newsweek in 1967.
As a teacher, Corita inspired her students to discover new ways of experiencing the world. She asked them to see with fresh eyes through the use of a "finder," an empty 35mm slide mount that students looked through to frame arresting compositions and images. Seeking out revelation in the everyday, students explored grocery stores, car dealerships and the streets of Hollywood. As Corita's friend, theologian Harvey Cox, noted: "Like a priest, a shaman, a magician, she could pass her hands over the commonest of the everyday, the superficial, the oh-so-ordinary, and make it a vehicle of the luminous, the only, and the hope filled."
Someday Is Now is organized by Ian Berry, Dayton Director of the Tang Museum, and Michael Duncan, independent curator and art critic, in collaboration with the Corita Art Center, Los Angeles. The exhibition is made possible with the generous support of the Andy Warhol Foundation for the Visual Arts and the Friends of the Tang.
---
All works by Corita Kent. Images courtesy of the Tang Museum at Skidmore College and Corita Art Center, Los Angeles.