Un/Natural History
---
Arik Levy. RockGrowth370, 2013. Mirror-polished, marine-grade stainless steel. 173 x 126 x 157 in. © Arik Levy. Courtesy Arik Levy Studio
Arik Levy, 2013. Photo by Daniele de Carolis. Courtesy of Arik Levy Studio.
Arik Levy. FacetFormation180Corten, 2016. Corten Steel. 30 3/4 x 30 x 71 inches. Courtesy of Arik Levy Studio.
Arik Levy. Ghost 224, 2017. Fine textured powder-coated stainless steel. 27 x 29 x 88 inches. and Ghost 180 Corten, 2017. Cor-Ten steel 26 x 31 x 71 inches. Courtesy of Arik Levy Studio.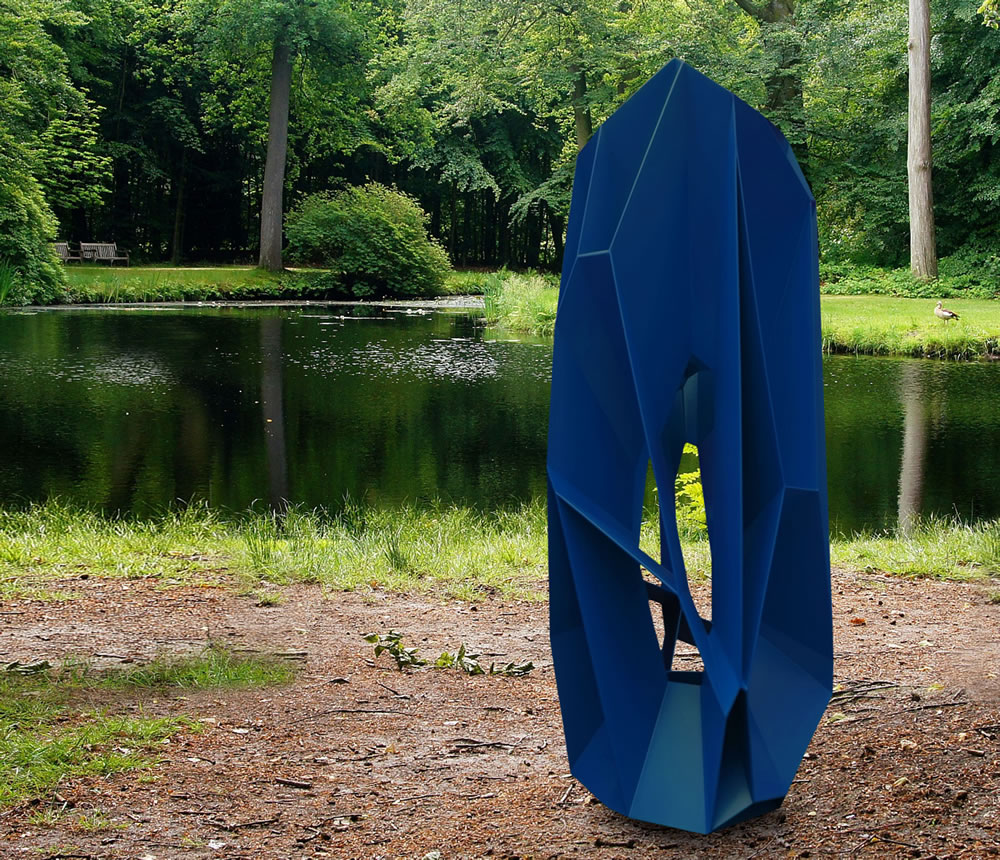 Arik Levy. Crater210Blue, 2015. Powder Coated Steel. 33 1/2 x 30 3/4 x 82 3/4 inches. Courtesy of Arik Levy Studio.
September 5, 2017 — June 2, 2018
---
Emphasizing elegance, balance and minimalism, the sculptures and outdoor installations of internationally renowned, Paris-based artist Arik Levy (Israel, b. 1963) address the viewer in ways that are equally cerebral and sensuous. Using robust materials, such as mirrored marine-grade stainless steel or powder-coated steel, which he finishes with great precision, the artist creates biomorphic forms that invite reflection and contemplation.
For over 15 years, Levy has been investigating the relationships between humans; social codes; nature; feelings; and science through the constant interpretation of the links, tensions and content of each of them, resulting in a remarkable anthology of statements. With a sophisticated knowledge and understanding of sculptural traditions, he is a technologist as much as he is an artist: He thinks in form; volume; skin; texture; and material properties; he manipulates and develops cutting-edge fabrication techniques to propel his ongoing creative investigation and artistic exploration.
Levy's innate scientific and poetic acumen, mixed with an interest in innovation, simplicity and experimentation, allows him to translate social and emotional conceptual narratives into sculptures and experiences, both in urban and natural environments. Un/Natural History includes a selection of recent works — on display both at Artis—Naples and Naples Botanical Garden — that derive inspiration in form and content from nature. Evoking minerals, arboreal structures, rocks and other forms, Levy's works exist as monuments that reflect and celebrate the geometry of nature, serenely owning the spaces they occupy.
---
This exhibition is organized by Artis—Naples, The Baker Museum and presented in partnership with Naples Botanical Garden.