The Baker Museum and Hayes Hall Galleries
---
Current Exhibitions
---
Florida Contemporary
2022-23
This annual exhibition presents a select group of notable visual artists practicing in Florida. Highlighting the breadth of artistic approaches to personal, local and global themes, Florida Contemporary invites visitors to celebrate the state's vibrant art scene. The artists selected for the 10th edition of the exhibition are Edouard Duval-Carrié, Miami; Ya Levy La'ford, Tampa; and Robert Rivers, Maitland.
October 14 – July 16
Located in the Kohan, Newell and Friends of Artis—Naples Galleries of Hayes Hall
---
Love Stories
from the National Portrait Gallery, London
This groundbreaking exhibition presents masterpieces from the collection of the National Portrait Gallery, London, arguing that ideas of love and desire have been critical to the development of portraiture from the 16th century to the present day. Featured artists include Sir Joshua Reynolds, Angelica Kauffman, Man Ray, Lee Miller, David Hockney and others.
February 4 – May 7
Located on the third floor of The Baker Museum
---
Naples Collects
2022-23
As a follow-up to the hugely popular Naples Collects exhibition of 2016, this exhibition is developed with the intention of sharing the most inspiring and engaging art from among the collections found in Southwest Florida. The paintings, sculptures, works on paper and mixed media pieces in this exhibition allow us to share with the museum's visitors some of our community's most prized possessions.
March 4 – October 15
Located on the second floor of The Baker Museum
---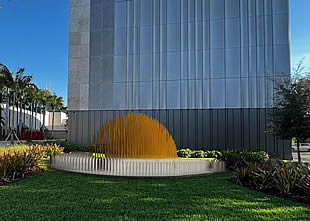 Jesús Rafael Soto
Extension and Half Sphere
The monumental outdoor sculpture Extension and Half Sphere (1991) by Venezuelan artist Jesús Rafael Soto (1923-2005) activates the north lawn of The Baker Museum this season. Composed of acrylic and aluminum, this sculpture exemplifies Soto's pioneering contributions to kinetic art.
Ongoing Installation
2022-23 Season
Located on the north lawn of The Baker Museum
---
Magritte: Reflections of Another World
Paintings from the Van Parys Family
Magritte: Reflections of Another World comprises six paintings — five oils and one gouache — by Belgian artist René Magritte (1898-1967). Renowned for his witty Surrealist paintings of everyday objects in strange surroundings, Magritte preferred that his artworks remain mysterious and open to interpretation. These works are from the collection of Jean Van Parys, a collector of avant-garde art and a close friend of Magritte, and they are on a five-year loan to Artis—Naples, The Baker Museum from Van Parys' daughter. The paintings have never previously been shown in North America, and none have exhibited publicly in over 48 years.
Ongoing Exhibition
Located on the second floor of The Baker Museum
---
Louise Nevelson
Dawn's Forest
The monumental sculpture Dawn's Forest by preeminent American artist Louise Nevelson (1899-1988) is one of the most iconic works in The Baker Museum's permanent collection. The work is made of various white-painted abstract wood elements, some as tall as 25 feet, created by Nevelson in her signature assemblage style over a period of more than a year.
Ongoing Installation
Located in the Drackett Gallery and throughout Hayes Hall
---
Chihuly Collection
Dale Chihuly is a multimedia artist known for pushing the boundaries of glass and revolutionizing the American studio glass movement. The Baker Museum is the permanent home to four of his dynamic large-scale installations, which are on view to museum visitors during all normal operating hours: Blue Icicle Chandelier, Red Chandelier, Red Reeds and Persian Seaform Ceiling.
Ongoing Installation
Located throughout the Kimberly K. Querrey and Louis A. Simpson Cultural Campus
Upcoming Exhibitions
---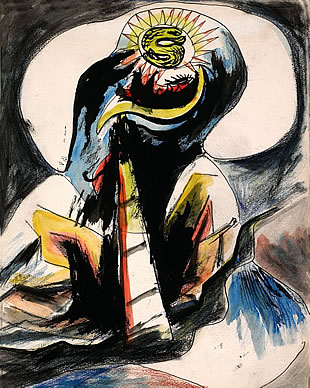 Three Degrees of Separation
Artistic Connections in the Permanent Collection
Showcasing modern artworks of the Americas from the museum's permanent collection, this exhibition gives glimpses into how artistic ideas were exchanged and shared, avant-garde styles spread and cross-cultural artistic pollination occurred in the early and mid-20th century.
April 1 – July 30
Located on the first floor of The Baker Museum
---
Prison Nation
Organized by Aperture, New York, this exhibition addresses the unique role photography plays in creating a visual record of incarceration, despite the increasing difficulty of gaining access inside prisons. Featured artists include Nicole Fleetwood, Lucas Foglia, Bruce Jackson, Emily Kinni, Jesse Krimes, Jack Lueders-Booth, Deborah Luster, Zora Murff, Nigel Poor, Joseph Rodriguez, Jamel Shabazz, Sable Elyse Smith and Stephen Tourlentes.
July 1 – September 17
Located on the third floor of The Baker Museum
Past Exhibitions
2022-23 Season
---
---